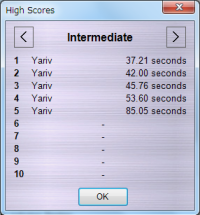 Included in Nonosweeper Pro:

New 'Genius' level - Only the best players will even complete this level!
High score tables - a separate table for each level.
Tournaments - compete in the weekly Nonosweeper Tournaments.
Clearer display - options for thick gridlines to make solving faster.
Online stats & info page - upload any scores you like and show the world!
Get listed in the World Ranking Tables!
Custom grids - Any size up to 40x25, and any number of mines.
Play offline and upload later - grab the upload URL when you complete a game and upload it from a web browser when you go online.
Game Recorder - Record and view replays of your best games.


Plus, of course, everything in the original Nonosweeper!